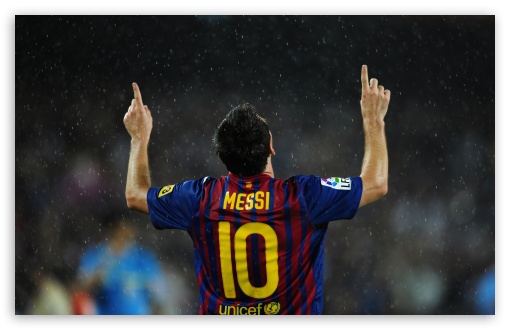 The Argentine footballer who plays for the FC Barcelona was born 24th June 1987. At is age, i bet he is ready to lay more unbeaten record in the History of Football.
Lets run down the list of this goal merciless MESSI.
3
Only player to win the Ballon d'Or three years in a row. He is favourite to be named the winner again next month
4
Only player to be European Cup top scorer four years in a row
4
Most goals scored by a player in the Fifa Club World Cup, jointly held with Denilson
5
Only player to score five goals in a Champions League match, against Bayer Leverkusen
7
Number of minutes in which Messi has not scored in 2012 – the 1st, 2nd, 10th, 14th, 15th, 46th and 69th minutes
Continue reading...
8
Most La Liga hat-tricks in one season by any player
10
Most consecutive La Liga matches scored in, record jointly held with (Brazilian) Ronaldo and Mariano Martín
10
Most goals scored by a player in the Spanish Super Cup
12
Most goals scored in a year by a player for Argentina, jointly held with Gabriel Batistuta
14
Most goals scored in a single European Cup season, shared with Jose Altafini of Milan in 1962-63
15
Most La Liga hat-tricks by a Barcelona player
15
Away league goals scored by Messi this season, more than every other La Liga club except Real Madrid
17
Most goals scored by a Barcelona player in El Clásico matches
17
Fastest hat-trick by a Barcelona player, 17 minutes against Mallorca
21
Most hat-tricks by a Barcelona player in all competitions
25
Most international goals (ie goals not scored in domestic club football) for club and country in a year, jointly held with Vivian Woodward
50
Most goals scored by a player in a La Liga season. Also won him the 2011-12 Golden Boot
56
League goals scored by Messi in 2012. Only five Premier League teams have scored more – Manchester United, Manchester City, Arsenal, Tottenham and Everton
56
Most goals scored in the Champions League by a Barcelona player
57
Most goals scored in European competition by a Barcelona player
63
Messi has scored one goal for every 63 minutes played in 2012 for club and country
72
Most club goals scored by a player in a single season, beating Archie Stark's previous best for Bethlehem Steel in the 1924-25 American Soccer League
74
Most club goals scored by a player in a calendar year
82
Most goals scored by a player in a single season for club and country
86
Most goals scored by a player in a calendar year for club and country, surpassing Gerd Müller for Bayern Munich and West Germany in 1972
91
Total goals scored by Messi in 2012, including five in friendlies for Barcelona
192
Most goals for a Barcelona player in La Liga, beating César Rodríguez Alvarez's 190
249
Wins by Messi out of 352 matches for Barcelona, 70.7% of his matches
283
Most goals by a Barcelona player in all competitions, beating César Rodríguez Alvarez's 232
5,405
Minutes of football played by Messi in 2012, equivalent to more than 60 completed matches
176,618
Followers of @MessiStats on Twitter, which has flagged up the majority of these records
List SOURCE:
theguardian